Shaping the future of online business payments today
Get access to multi-currency accounts, local and global faster payments and instant payouts-to-cards.
Built for small and medium businesses
Paysend Business payment solution allows your business to grow, benefitting from more affordable rates, improved global access, and one centralized platform.
Our platform provides you the tools to scale by offering your preferred money transfer options, multi-currency accounts, and instant payouts to cards.
Take complete control over your business payments
Fast payments

SEPA, SEPA Instant, SWIFT, ACH, Fedwire, and 17 more local payment options, allowing you to avoid slow and expensive international methods.

Payouts-to-card

Credit Mastercard and Visa cards around the world instantly.

Bulk payments

Upload bulk payment options, allowing you to complete payouts-to-card.

Multi-currency accounts

Receive, hold and exchange money in 35+ currencies worldwide with no hidden fees.

Paysend ecosystem

One centralized and seamless Business Payments account synced with Paysend's acquiring solution.

Free technical support

Our support guides you through the onboarding process.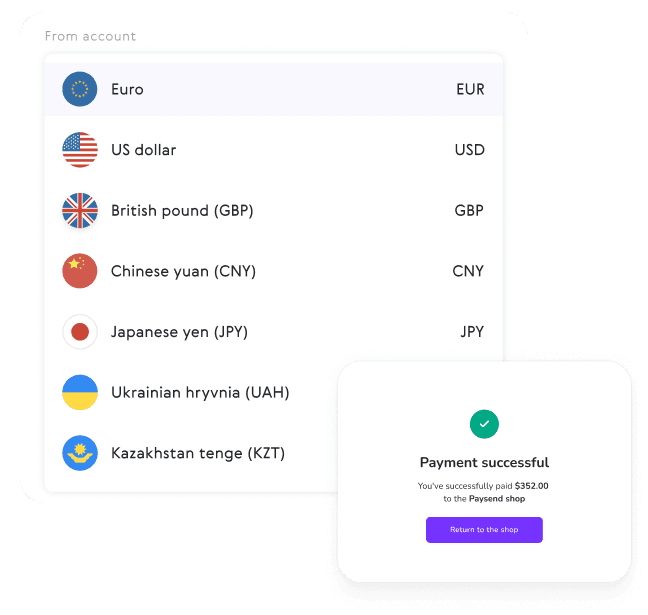 Import
Make payments in 35+ currencies, allowing you to benefit from a competitive global market.
Experience fast & secure transfers

Avoid slow & expensive international payment methods

Have the ability to reach out to more suppliers
Export
Make payouts to suppliers, partners, and employees faster and more affordably in 190+ countries.
Local account details for the UK, Europe, US and Canada

Multi-currency accounts in over 35+ currencies
Fast onboarding process
1

2

Verify ID & company information

3

Open your GBP, EUR or multicurrency accounts

4

Start sending and receiving global payments
Begin growing your business without borders today