2022-09-28
Paysend Business enables UK companies to reach more customers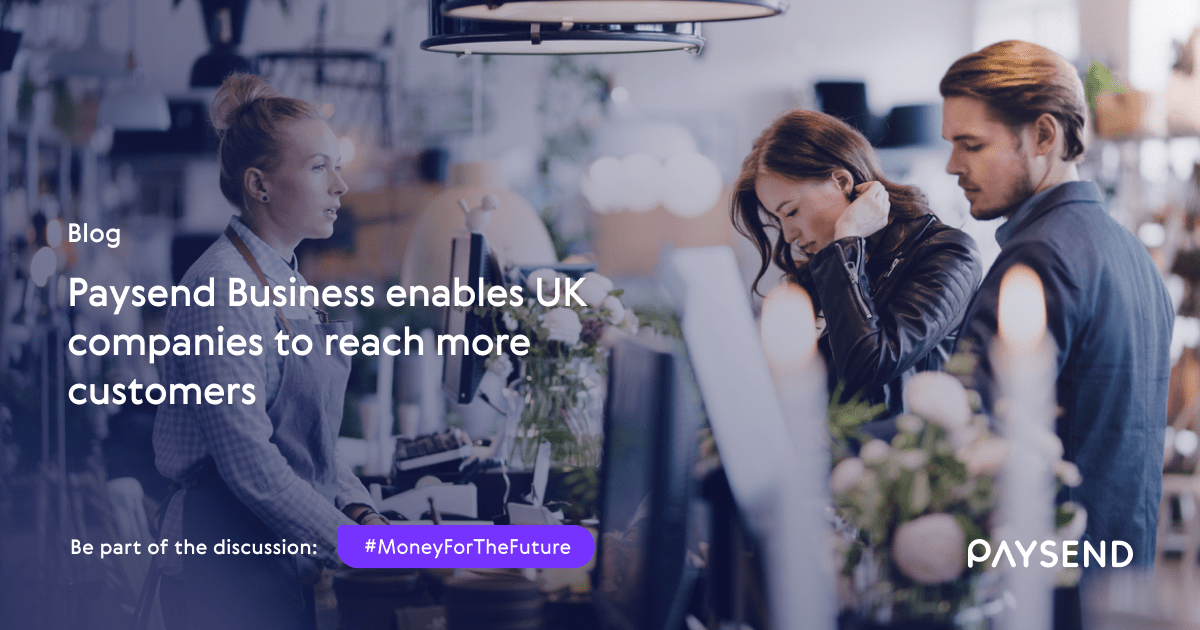 Paysend Business is allowing companies in the UK to reach more customers with our free, no code, expert and reliable solution!
Grow your revenue with Paysend Business and enjoy faster settlements, low fees, payment links and much more.
About Paysend Business
As part of the Paysend product family, Paysend Business gives you the unique opportunity to strengthen, manage and grow your business on one easy-to-use platform.
Paysend Business is here to uplift companies across multiple sectors and scales, from startups and small developing projects to larger models and enterprises.
Paysend Business allows companies to make and acquire payments via Visa, Mastercard, Apple Pay and Google Pay. The platform helps owners connect with clients and manage their finances quickly and affordably from day one. Users can also benefit from creating an online Paysend Store, delivering more exposure for your products and services.
Since its inception in April of 2017, Paysend has registered over 7.5 million customers worldwide, designed to transform how people all over the globe manage their everyday finances.
Paysend Business now offers a sustainable, expert and reliable solution that helps manage the day-to-day operations of your company, enabling you to connect with customers like never before.
How Paysend Business plans to uplift small and medium businesses
Now is the time to take advantage of an interactive and proactive approach to online purchases for your business.
Paysend plans to lead the way in the world of digital payments and create more opportunities for SMEs around the globe to build a network of investors and consumers, allowing them to receive digital payments via several different sources.
Paysend Business allows SMEs to grow by delivering features such as:
Next day settlement
Access to funds in just 24 hours and improve cash flow.
Ahead of the game rates
Leading payment rates
A fast set-up process
The ability to get set up in just a few days to start growing revenue.
A personal account manager
Access to an account manager, working to support growth.
Payment gateways
Accept payments in up to 38 currencies with global payment methods, converting card payment methods upon request.
Free technical support
Benefit from a quick and easy onboarding process with 24/7 customer support.
Start accepting payments quickly with a developer-friendly API.
With a high level of security, users will benefit from:
Regular security audits
High expert architects
The latest application-building practices
Adherence to W3C recommendations
Advanced AML algorithm for fraud detection
Paysend Store
Through Paysend Store, merchants can create and customise their website and set up products & services, delivery methods and promotions. They can also manage orders and their client database on one centralised platform, making distribution seamless.
By integrating with Paysend Business, users can access additional tools and utilise Paysend's payment gateways to accept payment methods such as credit cards, debit cards, Apple Pay and Google Pay.
By launching Paysend Store, we aim to help champion SMEs and young entrepreneurs, giving them a launch pad to enable them to promote their products and arm them with the tools to grow their revenue far more efficiently in a competitive market.
Learn more about Paysend Store here.
Paysend wants to help uplift small and medium businesses around the world. Enabling companies to connect and manage their finances quickly and affordably from day one using expert and reliable digital money solutions.
Paysend Business provides autonomy over your business' growth and creates opportunities for you to engage with your client base and evolve beyond what you thought was possible.
Take control of your financial health by saving time and money with Paysend Business.
Gain access to payments in 180+ countries all over the globe at any time at the click of a button.
Article by Ashley Mallet, Head of B2B at Paysend