2022-07-26
Paysend Comic #4 - Bali is heaven when you have a caring daughter
Haven't heard from Pays for a while? Here he is. Pays is the main character of the Paysend Comic Strip. Our hero helps people stay in touch and support each other even from afar. This time Pays travels from Belgium to Indonesia.
This is how the story goes.
In the middle of summer, the temperatures are rising on the oceanside and in the office. Rita is working hard to meet her deadlines, while her mother is enjoying Indonesia. Mrs. Peeters has retired and moved to Bali. What a neat choice!
Mrs. Peeters is a keen traveler. It was no surprise she moved to a beautiful place to start exploring it through and through. Rita only prayed that her curious mom wouldn't go surfing.
The daughter was doing her best to cope with the work at hand while helping her mom's relocation go smoothly. Especially when it came to finances.
Rita knew perfectly well her mother had a taste for spacious rooms and wouldn't want anything but the best for her long-term stay. Even if it meant she would have to spend a fortune on rent. What's worse, she would never admit it.
The daughter came up with a smart way to treat her mom.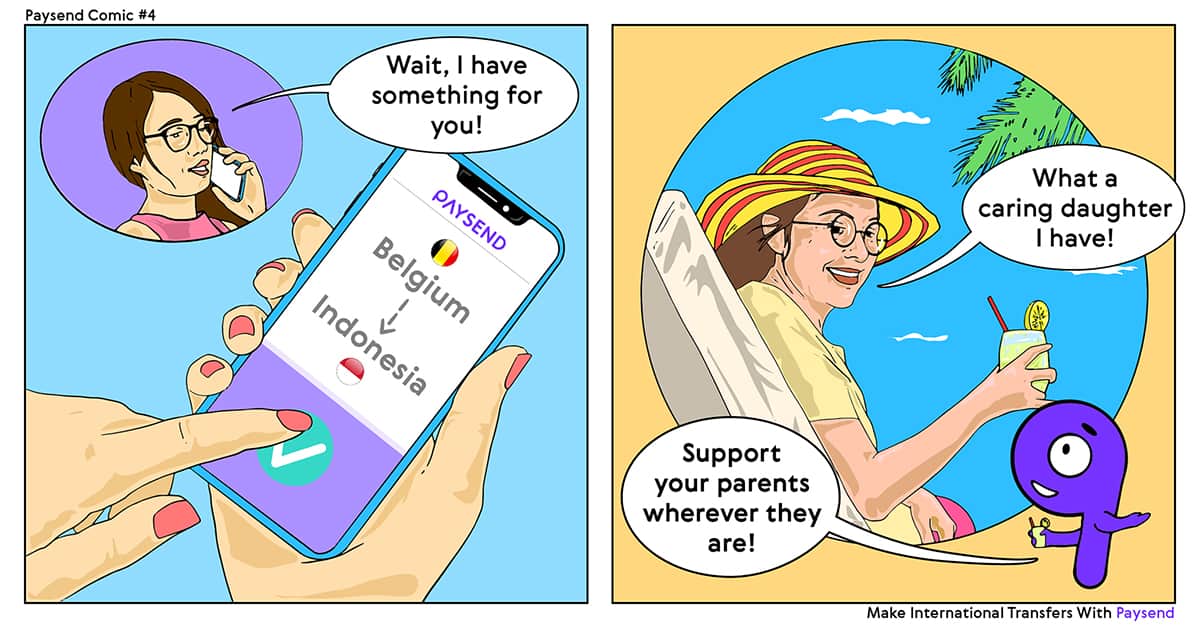 Sending money from Belgium to Indonesia could be an issue, but not for Pays. He came into play just in time to help swiftly deliver the transfer.
Voilà! A few clicks and with blazing speed the money arrived on the mother's card before she could even finish her cocktail.
Well, Mrs. Peeters can't swim and wouldn't go surfing, but…apart from having a taste for villas, she also has a taste for motorcycles. She knew exactly how to spend the money her caring daughter sent her just in time.
Paysend is here to help you send money internationally
If you need a service to make international money transfers securely, swiftly, and affordably, give Paysend a try.
We offer low flat fees for international transfers in different currencies, competitive exchange rates, and an easy-to-use mobile app to help you make transfers on the go.
In a nutshell, this is what Paysend has to offer:
Low flat fees for international transfers in different currencies — 1 GBP, 2 USD, or 1.5 EUR (depending on your country of registration)
Global coverage — transfer money to over 100 countries
Simple transfer methods — using cards, bank accounts, or using a mobile number
More than 7 mln customers around the globe choose Paysend for sending money abroad. Sign up with Paysend today and support your loved ones long distance with our reliable and user-friendly money transfer service.
Download the Paysend app for iOS, Android, Huawei, or visit our homepage to get started. Send money abroad swiftly and affordably.
Previously on Paysend Comic:
Learn more about Paysend in our all-new comic strip!
Love knows no borders. One very special evening in the life of Martin and Sophie
Happy changes — money can't buy you love, but Pays can save you time to find it