2022-06-01
Happy changes — money can't buy you love, but Pays can save you time to find it
This was Kevin's first time in Madrid. No careful planning, no particular expectations. Just some bags and the desire to feel better.
He was burning out at work. His girlfriend left him for another guy. Even his cat would not behave. It was the last straw that broke Kevin's back.
Longing for change, Kevin booked the airplane tickets and landed in Madrid the same day.
The first thing he encountered was a long queue at the exchange booth. Low spirits and high exchange fees were just a dozen people away… except for Pays!
Pays came up to Kevin in a flash. There is no need to wait in line, waste time, and pay high exchange fees.
Download the Paysend app, get a virtual Paysend card, and link it up to 8 currencies, including EUR. Exchange money at the click of a button. Pay like a local and enjoy your stay right away!
Kevin didn't hesitate for a second! Tap, tap on his phone, and the long queue was left behind.
Wait! Kevin came to Madrid alone. So, who's taken that picture of him? Pays can do many things, but taking photos is not his copa de vino. A passer-by perhaps?
Things happen for a reason. And that reason was a good one. Kevin needed a change in life, and Pays saved him time to make it happen.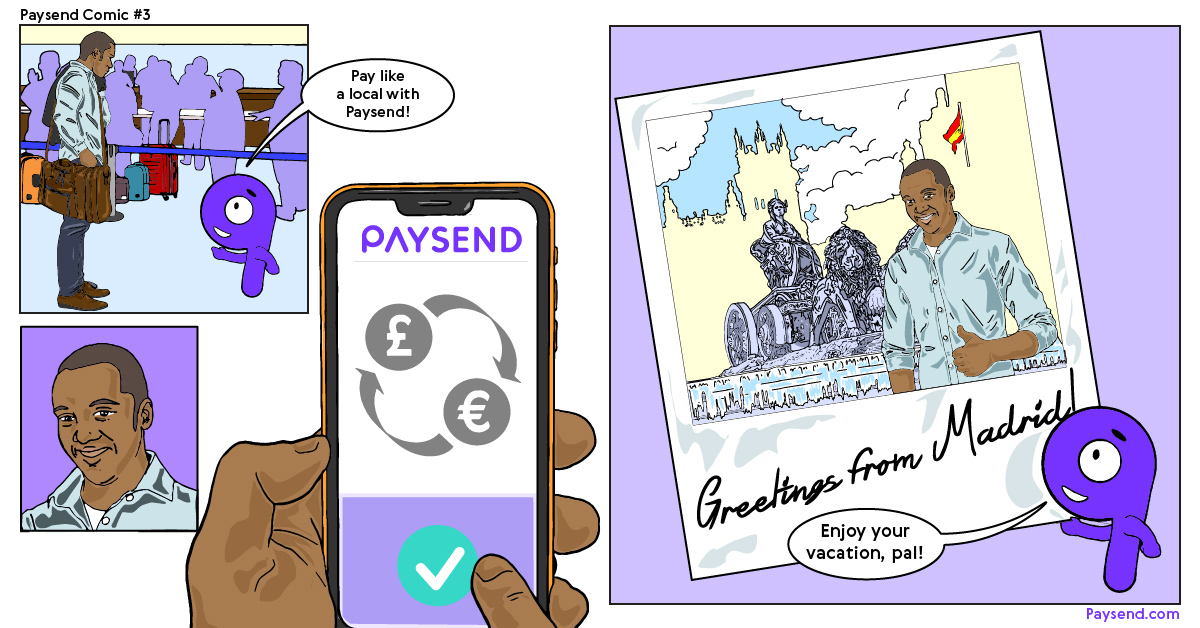 As Kevin was getting on a train to the city, he saw a lady running with her suitcase swerving behind her. He held the doors for her. They wouldn't stop chatting as the train took them to the heart of Madrid.
The young woman's name was Sara. She was coming back from her business trip. Her parents lived in Madrid, and she moved to the UK a year ago. She came to Madrid to spend time with the family and relax. It was a match!
Kevin winked at Pays. If it weren't for him, he would still be stuck in that queue. Pays winked back at Kevin. What a happy ending! Or is it a new beginning?
Changes can happen quickly in our lives. Linking different currencies to your Paysend card is instant right in the app.
With Paysend hold, send & spend your money internationally
Travels make us happier. Paysend enables you to control your finances wherever you are.
*The Paysend app comes equipped with new & exciting features:
Complete transactions from your account with a new physical Paysend Mastercard or our in-app virtual bank card
Hold different currencies (including EUR, GBP, and USD) in your multi-currency wallet, allowing you to exchange money instantaneously
Link a currency account to your card to spend like a local
Withdraw cash via ATMs for low fees when traveling
Need to move money abroad?
Use Paysend to make transfers in real-time, with low fees and competitive exchange rates. Send money to over 150 countries securely and swiftly.
Paysend helps millions of people to stay in touch and treat their family and friends across the globe.
More than 7 million customers already use Paysend. Join them today!
Previously on Paysend Comic:
Learn more about Paysend in our all-new comic strip!
Love knows no borders. One very special evening in the life of Martin and Sophie
*Available only for the users registered with Paysend in Europe