2022-06-08
Money20/20: Day Two Summary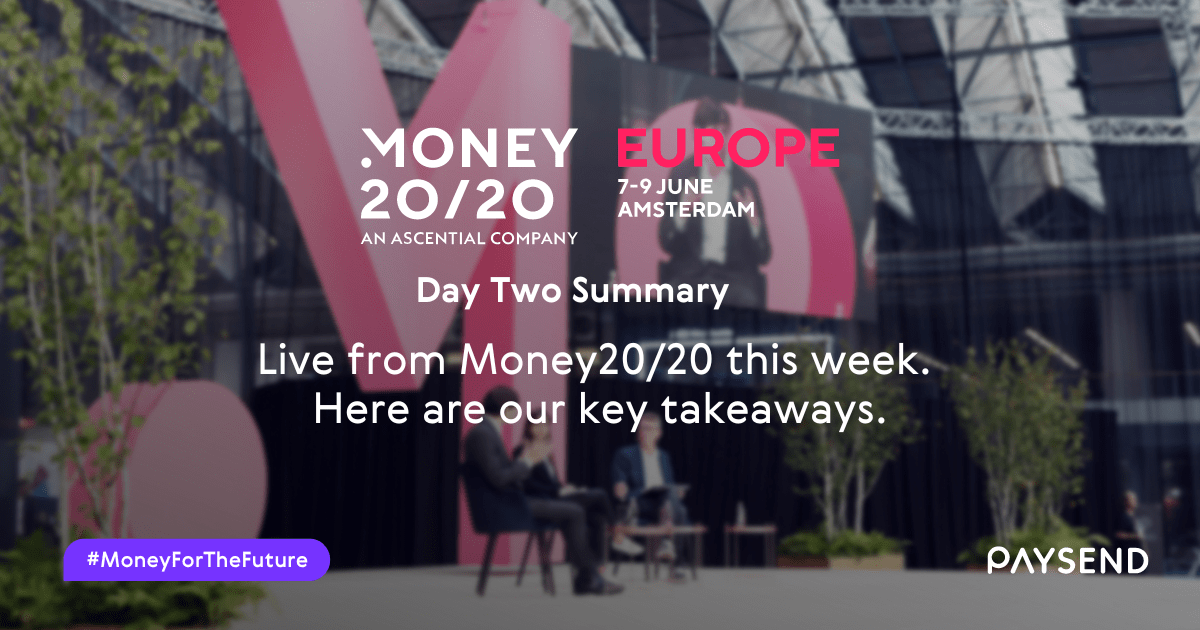 Day two at Money20/20 Europe in Amsterdam kicked off with another full agenda looking at innovation in FinTech and payments as well as the collaboration between banks, regulators and FinTech companies to drive greater innovation and change the face of financial services.
With so many new innovations, new customer journeys, new providers, and new instruments in the payments industry the pendulum is swinging back and forth between fragmentation to consolidation, however, the e-commerce corner of the industry is having its moment, with exciting things happening in the payments orchestration layer. Today's opening panel, chaired by Mélisande Mual, Managing Director at The Paypers explored how the manifestation of globalisation is driving all shoppers to now want a borderless and frictionless shopping experience. However, the average retailer has over four payment gateways and over nine banking relationships, and integration of these multiple partners brings complexity to a process where simplicity needs to shine through.
Many enterprises are building their own orchestration layers or using API integration to control their infrastructure, however, issues around flexibility and cost can prevent firms from going down this route. Firms need to first understand what they are trying to solve: how do customers pay, where are they paying from, when are they looking to pay, and who are they paying. Understanding which of these questions to address is important, as well as what a firm's ecosystem is set up for - can they build in-house or do they need to partner with others to help solve customer issues.
Also discussed was the metaverse - the hype around which is hard to ignore. From major retail brands to technology giants, the biggest names are planting a flag in the metaverse, but what are the opportunities for innovation for FinTech's looking to take advantage of this virtual world? Hosted by Guillaume Vaslin from ENNO studio GmbH, the panel discussed how financial services are critical to unlocking the full potential of the metaverse by providing secure and frictionless payments. Payments players partnering with banks was also seen as a crucially important catalyst for mass adoption and risk protection.
Moving back to the use of API's, a case study session with Tiger Brokers from Singapore provided some enlightening insights into the benefits of API integration of end-to-end payments platforms to help solve issues around speed, poor infrastructure, FX rate changes on transactions and customer satisfaction. Through FinTech integration via an API, Tiger were able to pass on multiple benefits to their customers quickly and cheaply. Importantly, success of the project came from clarity of the relationship with their FinTech provider where the starting point of what each organisation wants to achieve and what the development teams want to build is aligned. This coordination also ensures that the customer's need is at the centre of everything the project is looking to achieve.
A true rock star of the FinTech industry - Kahina Van Dyke, Global Head of Digital Channels & Data Analytics at Standard Chartered - explored how banks and FinTechs can reimagine and re-architect the next chapter of banking, and how they have to think, act and behave differently. Interviewed by Amy O'Brien, Fintech Reporter at Sifted, the discussion looked at how the converging forces of traditional banking transformation and the newer trend of talent fluidity are big motivators for both banks and FinTechs to evolve their approach in order to drive change.
The financial services industry is in the middle of a cultural revolution where the traditional command-and-control structure of banking and finance are being challenged by employees who want to work for less rigid and structured organisations. People are increasingly driving the agenda and in a banking culture driven by certainty and control people are being asked to lean into something they've not done before and believe in something they've not experienced before. However, irrespective of perceived cultural differences, innovation in financial services should not be driven by a bank vs. FinTech debate - the responsibility is on all parties (banking, fintech and big tech) to collaborate and work together in order to redefine what financial services options are available in the world.
The payments landscape is no stranger to evolution and the final session of day two looked at the impact of the Pandemic, its acceleration of digitization in the payments space and why some innovation in payments takes so long. Chaired by Louise Maynard-Atem, Head of Data Insights at GBG, the panel explored account-to-account payments and the driving forces of the Payments Services Directive (PSD2) and the digitization of banking which helped transform payments integration with bank account infrastructure. With mobile banking app adoption growing, faster payments rails being developed quicker and the pandemic speeding up customer desire for broader and new payments experiences, account-to-account payments have come to the forefront. However, the vision for mass adoption still needs to be defined and ultimately customer experience will drive demand.
Tomorrow we'll have more from Money20/20 Europe, Amsterdam with our day three summary. Tune in tomorrow!