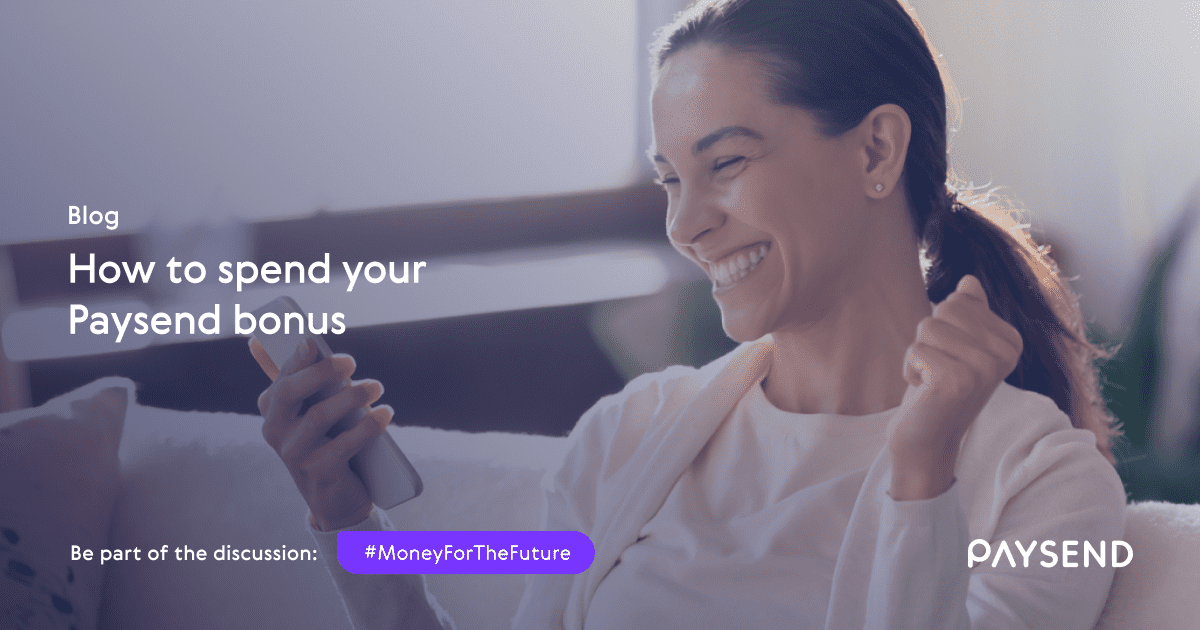 Paysend allows you to earn bonuses with our Paysend loyalty program and receive great incentives by participating in our promo campaigns. Keep an eye on all our latest updates via social media, email and app inbox.
Bonuses can be transferred, for no additional fees, to a bank or card account, depending on the registered country. Customers can choose their Paysend Bonus as a payment option to complete transactions or transfers anytime.
Check your Paysend Bonus account to find out how much you could save, spend and send today.
To withdraw your bonus funds, follow these steps:
Go to Profile
Select Paysend Bonus
Press Withdraw Paysend bonuses
Follow the instructions
A button to withdraw your bonus will appear in your profile only when bonus funds are available in your account balance.
The transfer cannot exceed the bonus in your account.
Please note the minimum bonus transaction or withdrawal amount for each currency is as follows: £5, €5, $5, 10 AED, 1 NOK, 4 CAD, 1 PLN, 5 CVK, 1 DKK, 40 SEK, 3 AUD, 5 CHF, 10 ILS, 10 TRY, 150 INR.
Send and spend at the click of a button.
Currently, all Paysend customers can participate in the Paysend Bonus loyalty program, except customers from Algeria, Armenia, Azerbaijan, Belarus, Belize, Bhutan, Bolivia, Brazil, Burundi, Cambodia, Cameroon, Central African Republic, Chad, Chile, China, Colombia, Costa Rica, Ecuador, El Salvador, Ethiopia, Gabon, Georgia, Guatemala, Guinea, Guyana, Honduras, Hong Kong, India, Indonesia, Jamaica, Jordan, Kazakhstan, Kuwait, Lesotho, Liberia, Madagascar, Malawi, Malaysia, Mauritania, Moldova, Monaco, Mozambique, Nepal, New Zealand, Niger, Nigeria, Peru, Philippines, Qatar, Rwanda, Saudi Arabia, Senegal, Singapore, Sri Lanka, Tajikistan, Thailand, Tunisia, Turkey, Uganda, Ukraine, Uruguay, Uzbekistan, Vietnam, Zambia.
For more information, read the Terms and Conditions.