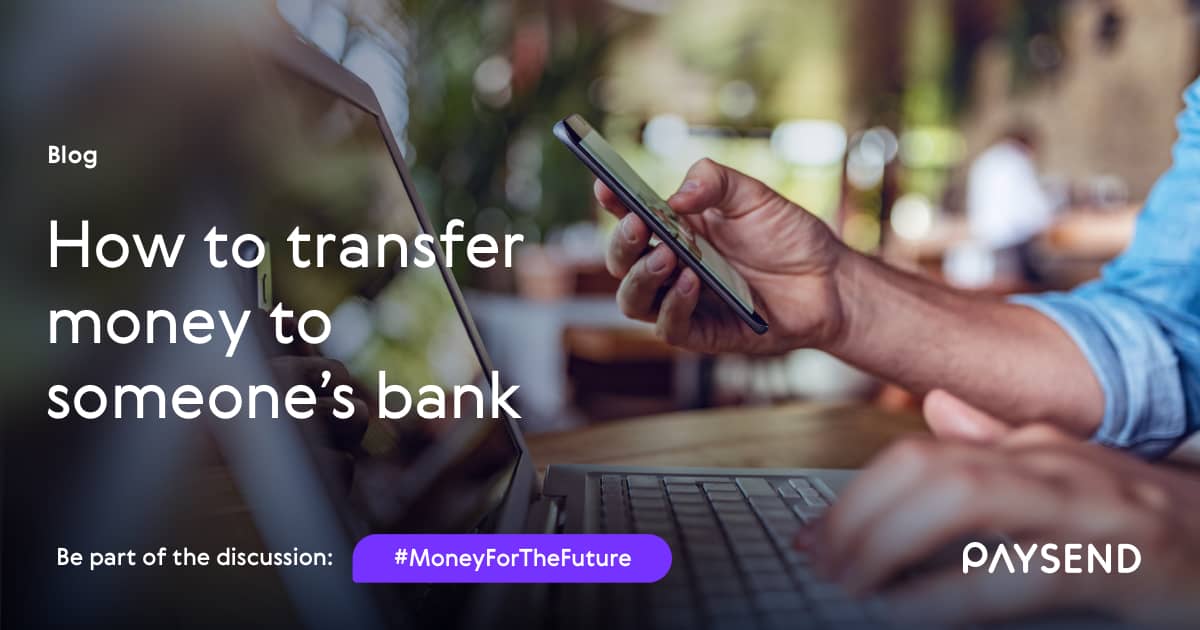 If you're looking for a fast and cost-effective way to transfer money from your bank account to another, then you are in luck!
Whether you're sending money as a gift, moving funds to support family overseas, paying bills or making scheduled payments, Paysend has you covered.
The ability to transfer money directly to bank accounts is quick, secure and affordable which provides a huge advantage over more traditional payment methods like cash and cheque. Paysend can give you peace of mind when managing your finances.
When making transfers directly to bank accounts, there are a few options to choose from with varying levels of cost and simplicity. Read below to find out what's best for you:
Wire transfers
Traditional wire transfer methods allow you to send funds via your bank or local post office. To make a wire transfer, you'll need to pay an excess charge at your branch and provide the bank details for you and your recipient. Your money will most likely arrive within a few days. You may have to pay unforeseen service charges and poor exchange rates. The average fee for making an international wire transfer is approximately $50 (or equivalent currency).
E-wallet transfers
An e-wallet service such as PayPal involves moving funds via a mobile app or online via their website. Recipients can then withdraw the money sent from their bank account often immediately. The issue often with E-wallet transfers is that the process can be one step too many for users, with both the sender and recipient having to sign up for an e-wallet account.
Sending money overseas may be expensive with e-wallets, as well, so make sure you check the fees beforehand
Cash
Visiting a bank and paying money directly into an individual's account using cash is perhaps considered old-fashioned and does run the risk of a security issue. In today's climate, we tend to want to avoid exchanging physical money to lower the rate of spreading harmful viruses.
Personal Checks
Writing a check or cashing one presents a similar issue to exchanging money, not to mention when needing to move that capital overseas. Delays when having to send a check internationally may mean your recipient does not receive their money in time.
Peer-to-peer transfers
You can send money from your bank account directly to another by using online platforms accessible through mobile apps or your web browser. These transfers are usually cheap to make, and all you'll need is some basic account information from your recipient.
The major advantage of this type of transfer is that you can do it from home, so you don't need to go to a bank or post office to send your money.
Move money to bank accounts with Paysend!
Paysend is a digital platform designed to help customers manage their finances and experience more freedom and flexibility than other alternatives. Our payments eco-system allows users to transfer funds online from their electronic devices quickly and easily overseas and benefit from improved rates and a secure interface.
We have added 50 new countries to our payments network since the start of 2022, meaning that our 7 million customers can send money to over 170 countries and benefit from lower fixed fees, upfront exchange rates, and faster transfer speeds.
If you're searching for a fast and affordable way to send money directly to bank accounts, look no further than Paysend.
To get you started, download the Paysend app via the App Store or Google Play or visit us online. Follow the step-by-step guide to setting up your Paysend account and making your first transfer to a bank account.