2022-05-27
Notes from Belgrade - Paysend's expansion and investment in Serbia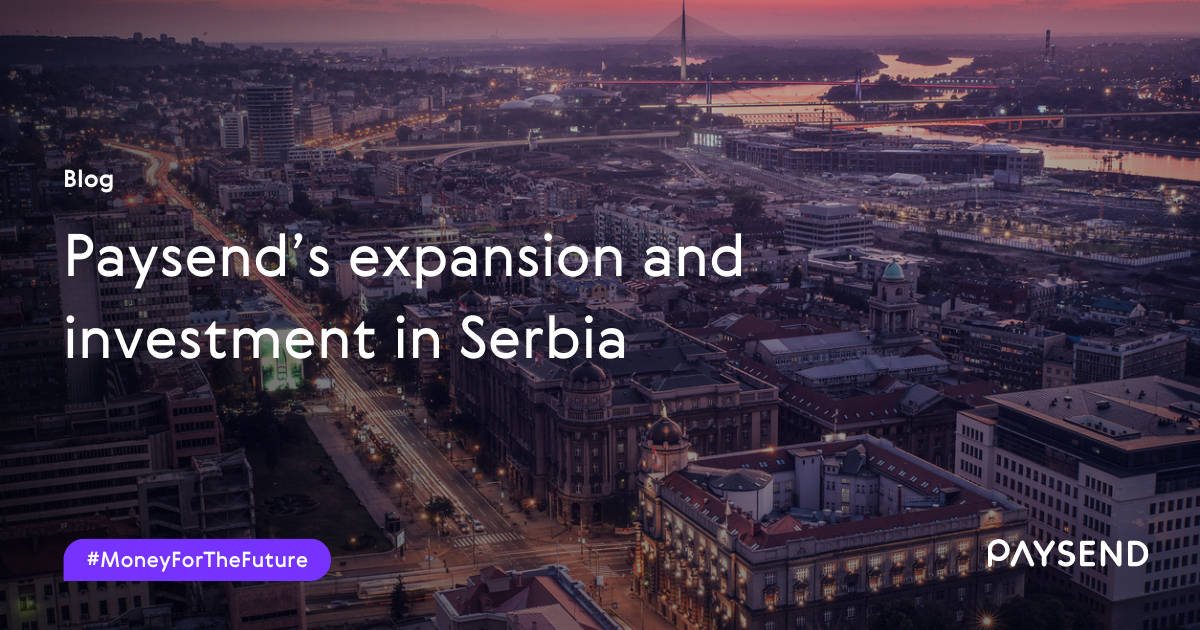 Last week, a delegation of our executive leadership team visited Belgrade in Serbia to meet with Her Excellency Ms. Ana Brnabić, Prime Minister of the Republic of Serbia, as well as representatives from the Chamber of Commerce and Industry of Serbia.
The meetings took place ahead of Paysend employees in Belgrade starting work at Paysend's new European Technology Center, which officially opened this week with the support of the Government of the Republic of Serbia. We'll look to grow our headcount to up to 100 people in Belgrade by the end of 2022.
Serbia has emerged as an important and influential tech hub in Europe, with organizations increasingly being drawn there by its convenient location and domestically-grown and internationally acclaimed technology talent pool.
At Paysend, we firmly believe in Serbia's journey to become a hub for digital innovation in Europe and a FinTech research and development capital. The country has excellent talent from world-recognized universities and prestigious tech multinationals; a committed government and political stability to support digital transformation; competitive cost advantages and fiscal incentives; a strategic location able to simultaneously support European, American, and Asian operations; and, an undersaturated market for technology development with room for growth.
Additionally, openness to innovation, willingness to adopt new ideas, and the prioritization of digital transformation have been foundational pillars for the current Government of the Republic of Serbia, with Prime Minister Ana Brnabić taking an active role in building close relationships with the IT industry, start-ups and entrepreneurial companies in Serbia.
The Prime Minister's Manifesto clearly identifies digitalization and the fourth industrial revolution as a unique opportunity for Serbia and its citizens to overtake other countries, particularly in the fields of technology, innovation, foreign direct investment and R&D. Indeed, Serbia's approach to digital transformation through e-government services and the use of data and AI in Covid response and vaccine rollout has been world leading.
The technology sector has become a critical part of the social and economic fabric of Serbia and will be crucial to the country's ongoing development and economic growth. At Paysend we want to contribute to that growth and become a significant player in the Serbian FinTech ecosystem, working in partnership with the Government of the Republic of Serbia to help put Belgrade on the map as the next FinTech capital of Europe.
Our ambition is to directly contribute to some of the brilliant technology-focussed initiatives already underway across Serbia, including working with the National Bank of Serbia to test our payment solutions and products in the bank's payment regulatory sandbox, as well as joining the Digital Serbia Initiative, a non-profit that hosts events for students, helps to shape FinTech laws, as well as develop Serbia's digital economy.
As a global FinTech with 7 million customers, choosing Belgrade as the location for Paysend's primary European technology hub was an easy decision given the growing infrastructure and support that the Government of the Republic of Serbia is giving to encourage the growth of technology and start-ups. We look forward to establishing ourselves in Belgrade and contributing to the goal of developing a strong, globally competitive digital economy in Serbia.
Blog by Abdul Abdulkerimov, Co-Founder & Chairman at Paysend