2022-02-14
Paysend Comics #2 – Love knows no borders. One very special evening in the life of Martin and Sophie
When it comes to love…well, butterflies in the belly don't fly as fast as Pays. Again he has to help two hearts to become a little closer to each other.
Martin and Sophie met at a French course in London. Sophie could not help but be charmed by the young teacher. Right after completing the course, they started dating.
Now Sophie works as a fashion designer, and Martin keeps on teaching French.
Sophie's friend Emily suggested that she move to France to help her with a project. Martin supported the relocation but didn't stay long in Paris. He left for Burundi to teach French at a local school.
Months passed. Sadness drained their hearts and phone batteries – the lovers stayed in touch all the time.
Meanwhile, Valentine's Day was approaching. It was the first time Martin and Sophie had ever celebrated it apart. Pays had been following the sad couple for a while and knew exactly how to help them.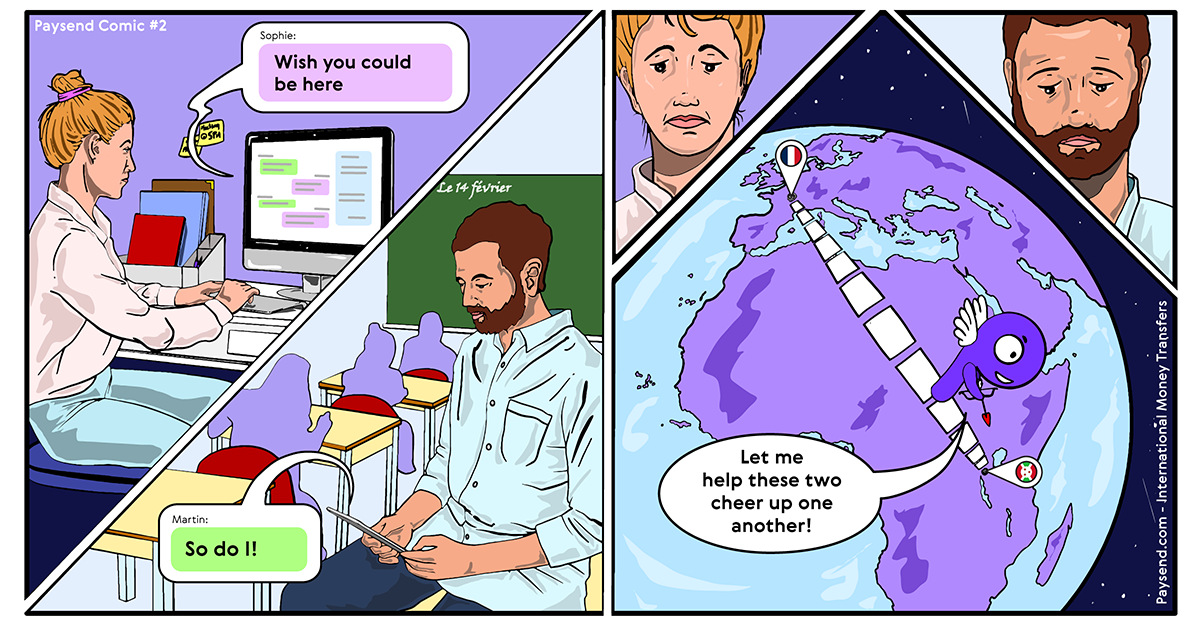 Sophie decided to give Martin a small but tangible gift – to send him money for a book. He had talked a lot about it but hesitated to buy the book. Just a few seconds before the online date, Sophie sent a transfer with Pays.
Click!
Straight from France to Burundi – Pays flew and delivered the gift faster than it took the laptop to boot! The money came instantly. Martin is happy. Sophie is happy. Pays accomplished his mission to connect people all over the world. Indeed, love knows no borders!
But Pays has a million pals everywhere. Can he keep an eye on them all? Who will he help next time? How are Maria and Alex doing? Stay tuned. Updates are coming!
You, too, can give joy to your family and friends around the globe on and off the occasion. With Paysend, it's quick and easy! Five million cusMartiners already use Paysend to send money to over 100 countries.
Why choose Paysend to transfer money abroad
Online money transfers are way more convenient and cost-effective than offline transfers. There are many services that offer to send money via website or mobile app. It's easy to get confused among them – fees, conditions, delivery terms, sending and receiving methods.
Paysend offers a user-friendly application and easy to understand conditions for money transfers:
Fixed commissions for international transfers with currency conversion
Transparent service – you see the amount of transfer, fee, exchange rate and the amount to be delivered to the recipient before you send the transfer
Instant processing and fast delivery within a few seconds – 95% of transfers come to the recipient instantly
Ensured security of transactions and personal user data
Real-time, round-the-clock support
More than 100 countries to send money, different transfer and delivery methods
Getting started with Paysend is easy. Register on our website or in the mobile app for iOS, Android and Huawei. It takes just a few minutes to sign up.