2022-04-28
Retail Technology Show 2022: Day Two Summary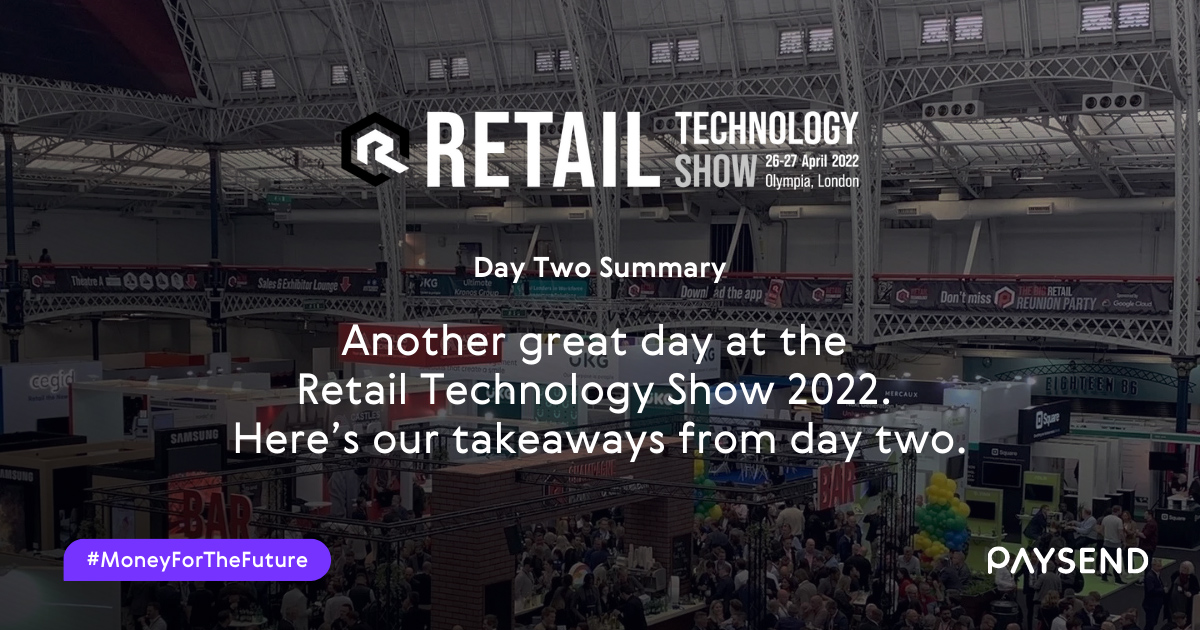 We were back at the Retail Technology Show 2022 at Kensington Olympia in London yesterday for day two of the event.
Payments were firmly on the agenda with discussions on the changing relationship between customers and payments providers, and payments transformation taking place throughout the day.
Speaking on how checkout-free shopping can evolve the customer journey, Paul Rodgers, Chairman at Vendorcom, highlighted how meeting consumer demand for frictionless product purchases needs to be done through evaluating intelligent solutions that can deliver results. While both cash and card will remain critical in all customer journeys, the acceleration of crypto, bitcoin and blockchain, as well as new state of the art payment terminals for vendors and open banking will become increasingly credible sources of money movement going forward.
Up next, Crew Clothing and PMC discussed how the customer journey was being transformed through mobile payments and smart payments technology. A focus on road mapping and creating systems that simplify the payments process for customers is critical to driving enhanced partnerships and customer retention.
Particularly interesting was a presentation from Reshmi Suresh, Director of Enterprise Product Commercialization at Worldpay, on Buy Now Pay Later (BNPL) that spoke about how customers are more likely to make purchases if they are aware of how much they have to spend in allowances. Also, while the BNPL market is dominated by companies like Klarna, Afterpay and Affirm, there is a suggested shift towards white-labelling of BNPL products for retailers to showcase that will have broader appeal to consumers and bring their credit offerings under one roof.
With the launch of Paysend's Credit Builder and Pay Later offerings earlier in April this year the discussion highlighted the fact that customers want a flexible and controlled way to pay later that combines the convenience of paying directly with low-interest payments. With Paysend, customers can access additional funds for any purchase and enhance their credit footprint while also being protected from other credit products that may worsen their financial situation.
In what was a highly informative and successful event we were reminded of the importance of personal interaction and face-to-face engagement. We would like to thank all of those that stopped by our stand to say hello. We look forward to seeing you again in 2023, if not sooner!