7 May 2021
Testimonial series: What do you do with the time saved using Paysend?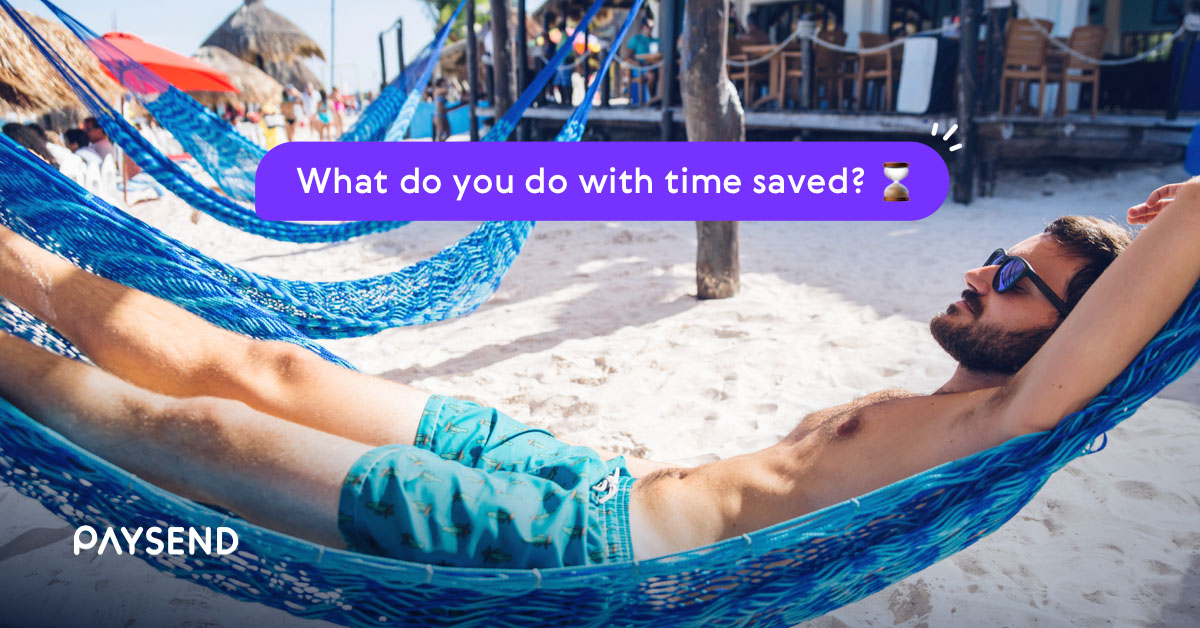 Here at Paysend, we understand that time is precious to our customers. That's why, we won't waste your time with complicated processes and slow transfers. We can get your money from A to B fast, and with minimal fuss.
We enjoy knowing we help customers focus on the more important things in life rather than spending a great deal of time transferring money internationally.
"You guys literally saved me so much time and efforts and I already recommended you to some of my friends and family." – Paysend user that sends money to Russia
How Paysend can help you save time through digital money transfers
We're happy to help people save time on transfers so they don't have to travel to a bank or local transfer location and then wait around for the payment to process.
With Paysend, you can send money from the comfort of home via your smartphone or laptop, making life much easier!
"Sending money doesn't require any bank visits." – Paysend user that sends money to Russia and Ukraine
Here are three things you can do with the time you'll be saving by switching to Paysend's international money transfer platform:
Expand your knowledge and skills
Whether you're chasing a promotion, new job, or simply learning something new for the fun of it, freeing up time by sending money with Paysend means you can invest more time in yourself and personal development. So, sign up for that online course or download that new audiobook you've been eyeing and put your free time to better use!
Look after your physical and mental well-being
Whether it's commuting to your local bank, waiting in lines, or filling out long forms, sending money through offline, traditional methods may be stressful.
If you're having to juggle sending money internationally as well as other commitments like family and work, then you may be experiencing increased stress. Saving time and money by choosing Paysend means you can focus on yourself. Activities like yoga, swimming or hiking can help you prioritize your mental and physical health.
Share special moments with family and friends
Sending money to loved ones abroad with Paysend allows you to spend more quality time with friends and family. Paysend is all about helping you build strong connections with the people you love, and we want to help you do this any way possible — whether through digital transfers or simply by giving you more time back into your day. The time you save by sending money with Paysend can be spent with the people you love, which we can all agree is time well spent!
What do you enjoy doing in the time you save from using our digital money transfer platform? Head to our Trustpilot page and let us know!