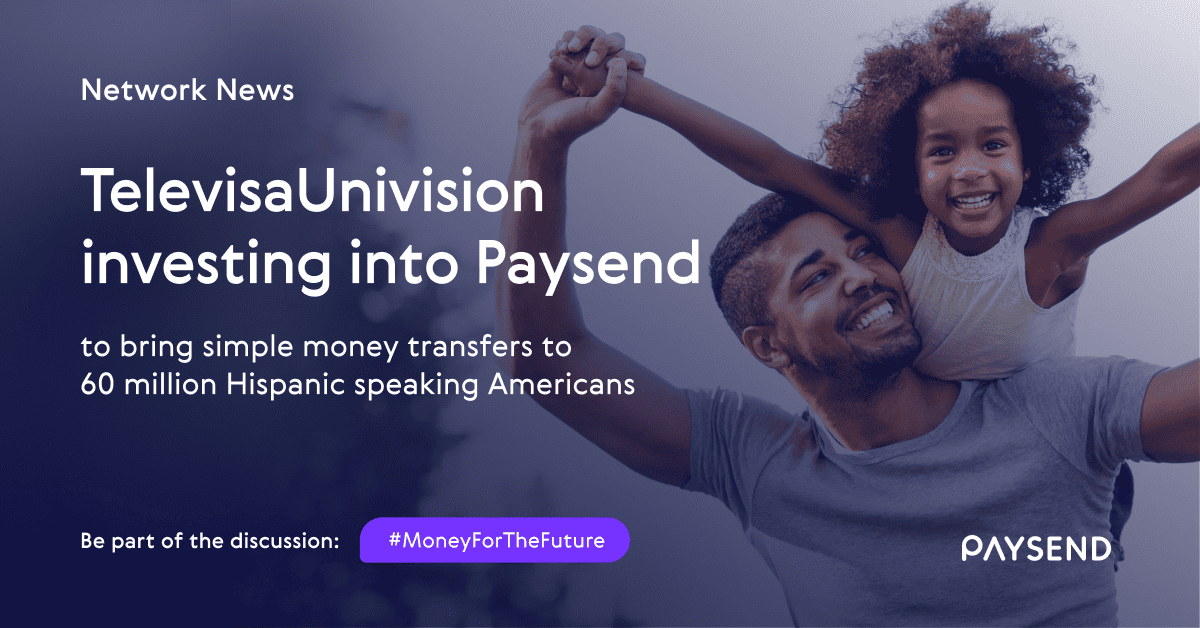 Partnership supports Paysend's mission to provide simple, instant money transfers to Latin American markets
May 9th, 2023 – Paysend, the global card-to-card transfers pioneer and global payments platform, has announced a new strategic partnership with the world's leading Spanish-language content and media company, TelevisaUnivision.
As part of the partnership, TelevisaUnivision will become a shareholder in Paysend and will help the brand scale it's presence with U.S. Hispanics and Latino's globally by leveraging TelevisaUnivision's massive reach and media assets.
For TelevisaUnivision, this partnership reinforces its commitment to empowering its audience with the tools they need to stay connected to their families and communities, no matter where they are.
The U.S/LATAM market is a top priority for Paysend, serving the 62M Hispanic population based in the U.S., representing 20% of the overall population.
Currently, a significant population in Latin America is unbanked, but still rely on money being sent from family members that have migrated to the U.S. Without a bank account, they have little option but to use expensive, time-consuming, and unsafe methods to send and receive remittances.
Paysend's commitment to financial inclusion now brings a safe and affordable alternative through its instant card-to-card offering. With this partnership, TelevisaUnivision joins Paysend's mission to make money transfers simple and accessible to everyone.
The partnership will allow Paysend to expand its global reach and further develop its technology, making it easier for users in the U.S. to send money to families and businesses in Latin America.
To read more about the partnership, or to begin sending money through Paysend, visit https://paysend.com.
ABOUT PAYSEND
Paysend is a next-generation integrated global payment ecosystem, enabling consumers and businesses to pay and send money online anywhere, anyhow and in any currency. Paysend is UK-based and has global reach having been created in April 2017 with the clear mission to change how money is moved around the world. Paysend currently supports cross-network operability globally across Mastercard, Visa, China UnionPay and local ACH and payment schemes, providing over 40 payment methods for online SMEs.
Paysend can send money to over 170 countries worldwide. As a global end-to-end payment platform, Paysend has its own global network of banks and international and local payment systems and has partnerships with the major international card networks Visa, Mastercard and China Union Pay as a principal member and certified processor.
For further information and details of the partnership visit https://paysend.com.
ABOUT TELEVISAUNIVISION
TelevisaUnivision is the world's leading Spanish-language media company. Powered by the largest library of owned Spanish-language content and a prolific production capability, TelevisaUnivision is the top producer of original content in Spanish across news, sports and entertainment verticals. This original content powers all of TelevisaUnivision's platforms, which include market-leading broadcast networks Univision, Las Estrellas, Canal 5 and UniMas, and a portfolio of 38 cable networks, which include TUDN, Galavision, Distrito Comedia and TL Novelas.
The Company also operates the leading Mexican movie studio, Videocine, and owns and operates the largest Spanish-language audio platform in the U.S. across 39 terrestrial stations and the Uforia digital platform. TelevisaUnivision is also the owner of ViX, the largest Spanish-language streaming platform in the world. For more information, visit http://televisaunivision.com.