2022-08-05
How to learn a language: at home vs abroad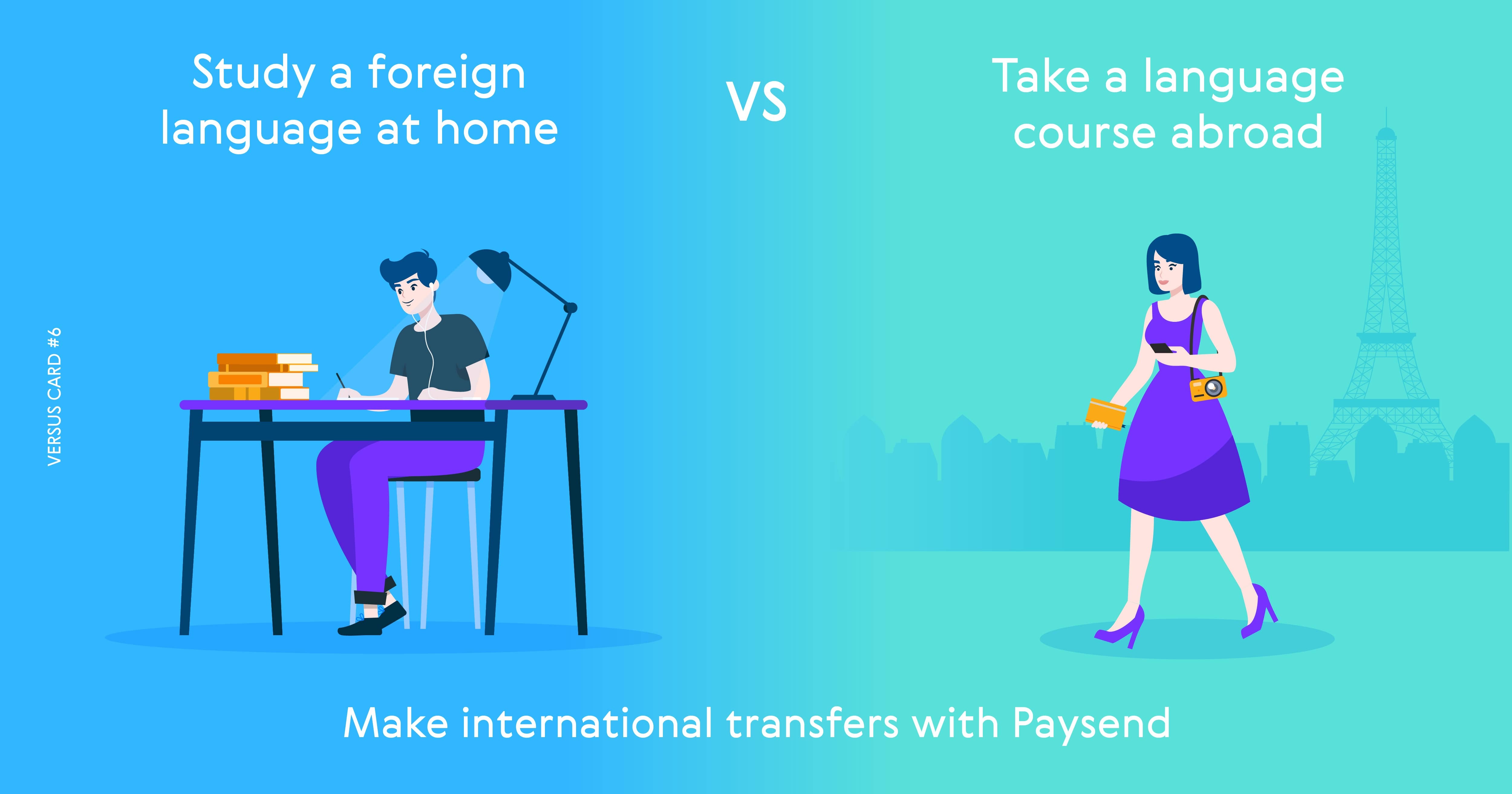 Is it worth literally going the extra mile? What are the advantages of studying a language in your home country?
Let's have a closer look at the pros and cons of both options.
Studying at home
Studying abroad may become a long-term and money-consuming endeavor. One may like the idea but face various reasons for studying in their home country. And this might also be a good option. Here is why.
Sample different languages. Depending on your goal, you may try out different languages as opposed to committing to one and investing too much time and effort in the wrong thing.
Convenience and flexibility. Study at your own pace with the teachers and timetable of your choice. Try out different options, including online classes with native speakers, speaking clubs, etc.
Affordability. No need to travel far and take on the extra expense. The internet is flooded with courses and private lessons for all tastes and budgets. It only takes a bit of searching to find the best deal.
Native language specifics. Local teachers know the specifics of your mother tongue and teach a foreign language considering these peculiarities. When beginning to learn a language, it might be more comfortable to ask a question and get a better understanding of a particular rule in your native language.
Studying abroad
The majority leans toward this option when choosing how to effectively study the language. If you have enough time, money, and commitment, studying a language abroad may become the best option.
Language environment. Studying a language is more than vocabulary and grammar. Day-to-day practice with the locals helps you pick up the language faster and articulate your thoughts like a native.
Stop the translating habit. And start thinking in a foreign language. It might take a while and only comes naturally when you are in the respective environment. What happens here is picking up the language instead of memorizing rules and words.
Culture specifics. One of the most exciting things about studying abroad is being able to get a first-hand account of local culture and habits.
A bunch of new connections. Meet new people from around the globe you would otherwise never have met. Social networking comes as a bonus when studying far from home.
Is there a compromise?
There is. You may start learning a language in your home country and proceed with studying abroad. Take some time to get the basics and then sign up for a course in a foreign country. It's most likely the best way to learn a language!
Stay connected to your family and friends
When staying abroad, there is one thing you would not want to miss. That is being in touch with your family and loved ones.
Paysend helps millions of people support each other with fast and secure money transfers. We deliver money to 100+ countries with low flat fees and various delivery options.
You can easily make a money transfer on our website or in the Paysend app. More than 7 mln customers already trust their money transfers to Paysend.